Today's piece takes a look at three of the most interesting names set to thrive in the ed-tech market space, all with strong revenue growth, millions in sales, and strong positioning to compete for dominance in the growing $27B interactive display market.
Instructure Inc (NYSE:INST) bills itself as a company that provides applications for learning, assessment, and performance management through a software-as-a-service business model worldwide. 
It develops Canvas, a learning management platform for K-12 and higher education; and Bridge, an employee development and engagement platform. 
The company's applications enhance academic and corporate learning by providing a system of engagement for teachers and learners, enabling frequent and open interactions, a streamlined workflow, and the creation and sharing of content with anytime, anywhere access to information. Its platform also provides data analytics that enable real-time reaction to information and benchmarking in order to personalize curricula and goal setting; and enhance the efficacy of the learning, assessment, and performance management processes. The company was founded in 2008 and is headquartered in Salt Lake City, Utah.
The company's latest earnings showed a positive long-term trend toward sustainable financial results. Shares of the stock are testing their 200-day SMA right now, potentially offering an interesting opportunity to new money looking for exposure in the space.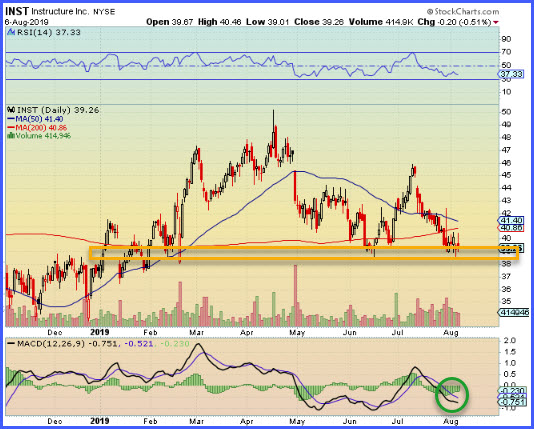 Galaxy Next Generation Inc. (OTC:GAXY) is a provider of interactive learning technology solutions that allows the presenter and participant to engage in a fully collaborative instructional environment. 
Galaxy's products include Galaxy's own private-label interactive touch screen panel as well as numerous other national and international branded peripheral and communication devices. Galaxy's distribution channel consists of 22+ resellers across the U.S. who primarily sell the Company's products within the commercial and educational market. 
Galaxy does not control where resellers focus their resell efforts, although generally, the K-12 education market is the largest customer base for Galaxy products – comprising nearly 90% of Galaxy's sales.
The company boasts a strong team, including its COO, who spent the majority of her young career at Mimio/Boxlight (NASDAQ:BOXL), a leader in the ed-tech and interactive display market. She performed many jobs at Mimio including, sales, federal programs director, and regional management.
The biggest recent news for the stock comes in the form of its announcement that, as a result of its recent participation as an exhibitor at GAMEIS, in Savannah, GA, it has signed AIOS Group LLC as a value-add reseller.
According to the release, AIOS Group LLC, of Canton GA, has already successfully onboarded and is now active as a Galaxy reseller. Gary LeCroy, Galaxys Chief Executive Officer, commented, "We continue to expand our presence, especially in the K-12 classroom. Our new products were well received at GAMEIS and its always great to achieve immediate success from a tradeshow or conference by signing a new reseller. We look forward to having AIOS Group represent our products and expand our market share."
With a tiny float of just 10.4 million shares, GAXY is always primed for big upside potential simply due to a scarcity function in the open market. That feature was on full display six weeks ago when the stock rallied over 75% in three days in a powerful squeeze. Technically, we believe the current pattern supports the potential for a similar move if the stars line up right. And right now, that recipe could be in place.
The stock is also testing key trend line support right now at a higher level than it tested in June and earlier this year, resulting in a nice upward trend going through a pullback. The MACD indicator is flashing a green light as the pullback ripens, so it might be just the time to give this stock a fresh look.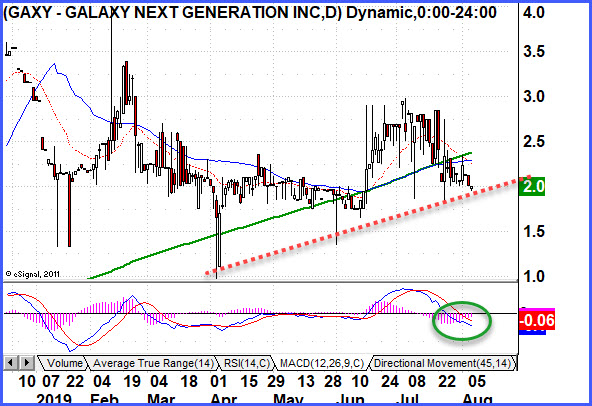 Boxlight Corp (NASDAQ:BOXL) promulgates itself as an education technology company that develops, sells, and services interactive classroom solutions for the education market worldwide. 
The company provides a range of interactive classroom technology products primarily targeted at the K-12 education market. Its products include interactive projectors, interactive flat panel displays, interactive touch projectors, touchboards, and MimioTeach that could turn any whiteboard interactive; and accessory document cameras, teacher pads for remote control, and assessment systems. 
The company also offers MimioStudio Interactive Instructional Software that enables the creation, editing, and presentation of interactive instructional lessons and activities; and MimioMobile, a software accessory for MimioStudio. In addition, it offers interactive touch tables and whiteboards; and peripherals and accessories, such as amplified speaker systems, mobile carts, installation accessories, and wall-mount accessories for interactive and standard projectors, and LED flat panels. 
Further, the company distributes interactive projectors and LED flat panels; and science, technology, engineering, and math data logging products. The company was formerly known as Logical Choice Corporation. Boxlight Corporation was incorporated in 2014 and is headquartered in Lawrenceville, Georgia.
The company just announced that Clayton County Public Schools (CCPS), Georgia's fifth-largest school district, has initiated a comprehensive professional development program with a multi-method approach for online, onsite and consultancy training within its whole-class learning solution. During the 2019-20 academic year, Boxlight's subsidiary EOS Education (EOS), a professional development provider for the K-12 education market, will provide a comprehensive program of training, professional development and ongoing support for CCPS educators. These three programs will be integrated in order to facilitate the educator's effective implementation of Boxlight classroom solutions and to provide those teachers with the necessary skills, knowledge, and best practices regarding usage of available technologies in their classroom.
Previously, in the spring of 2018, Boxlight was the chosen solution for an $18 million digital classroom refresh project in CCPS, to install its innovative Mimio classroom solution suite in approximately 3,200 classrooms, comprised of 38 elementary, 15 middle and 12 high schools. The installation was completed at the end of February 2019.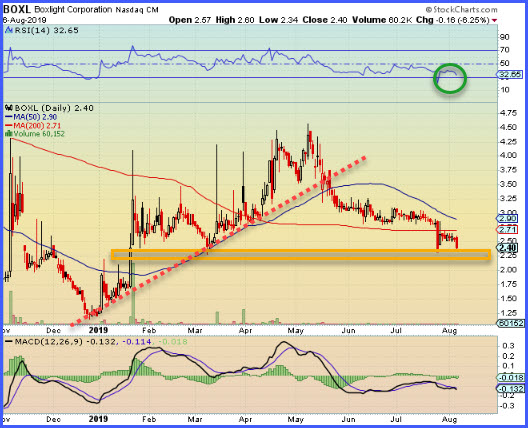 Disclaimer: Please make sure to read and understand our disclaimer. We hold no shares on all of the stocks mentioned in this articles. Please note we have been comepnsated $6500 by World Wide Holdings dba Invictus Resources for advertisement services on GAXY.