Innovest Global Inc. (IVST) shares have found support over the past 3 weeks and begun to break higher again as the company releases further confirmation that its diversified strategy is beginning to pay off as management executes on a number of different lines.
So far in April and May, the company has begun to signal an accelerating topline annual run rate for sales ($4M+), with the potential for astronomical growth going forward.
However, given that the stock has just started to break out once again, you may not have a lot of time to sit on your hands on this one. So it's best to get your due diligence going now.
Symbol:  IVST
Company:  Innovest Global Inc.
Quote:  http://finance.yahoo.com/q?s=IVST
Latest News:  http://finance.yahoo.com/q/h?s=IVST+Headlines
Website: http://www.innovestglobal.com/
Innovest Global Inc. (OTCMKTS: IVST) is a diversified conglomerate organization that has been building a reputation in the marketplace for core execution. According to company materials, Innovest's planned subsidiaries operate across telehealth, biotech, commercial energy, business-to-business distribution, national call center and auto sales.
The company has been rapidly growing its commercial and industrial division, which is comprised of 3 key segments: energy, services, and durable goods.
One of the core components of this division is the company's proprietary LEEP financing program, which is a zero out of pocket financing program for clients, that uses savings to pay for upgrades. "LEEP" stands for Lighting Energy Efficiency Program.
It is a revolutionary Innovest financing tool that allows clients who wish to upgrade to energy efficient hardware, to finance the hardware and installation by paying a portion of the energy cost savings monthly. The result is a cash flow positive savings for the client. It is available for Demand Cost Reduction pole-mount or box unit, as well as all of the company's efficiency solutions.
Recent research suggests the company has its fingers on a number of high-growth buttons right now, given this highly diversified approach:
According to MarketsAndMarkets, the global LED lighting market is estimated to be worth $92.40 billion by 2022, which represents a compound annual growth rate (CAGR) of 13.66%. The market research firm sees the growth being driven by increasing demand for energy efficiency products, LED costs are falling, and overall greater adoption of the technology as a general lighting source.
According to Renub Research, the global LED lighting market is estimated to be worth $100 billion by the end of 2024. The market research firm sees the vast global growth primarily stemming from exponential global urbanization and greater awareness to energy efficiency systems.
In PwC's "2017 Power and Utilities Trend" report, analysts concluded that a vast majority of the growth will come from a "blueprint for a service-based model." This would include: emerging technologies, monitoring equipment, sensors, energy management technology, and more.
According to Technavio market research, the global industrial energy efficiency services market is forecast to be valued around $10.18 billion by 2020, which represents a compound annual growth rate (CAGR) of 6%.
Recent Catalyst:
This is where the story really is for this stock. In recent weeks, we have seen a hurricane of progress, with massive implications of potential sales growth now nailed into place.
The company's push into key areas has been taking flight and a strong base of partners, clients, and customers have flocked into the picture.
Already this month, we have seen a number of new signed contracts.
For example, the company's Call Center segment announced that it has won a significant bid for a contract with industry leader MRI Software, which has high compliance requirements – an Innovest Call Center expertise, since acquiring Crestwood Management in January.
Following close on the heels of this announcement, the Energy Group disclosed that it has signed another significant client (potential for 5-figure sales accretion) thanks to its revolutionary LEEP financing program.
According to the release, "The client, Wrap-Tite, Inc, is a leading manufacturer of flexible packaging solutions, and the only Extruder/Converter of stretch film in the United States. Saving 30% of their electricity cost in the 200,000 square foot facility was easy to understand, but for any company, budgeting nearly $100,000 to do so is not as easy of a decision. Using the LEEP Program, they became the latest Energy Group client to upgrade without dipping into their cash, or adding to their monthly expenses."
And that's just in May. April was a major month for the company as well, with the highest monthly sales the company has recorded to date, $326K from its Commercial & Industrial Division.
"The Division now has $4 million in annual run rate revenue, a significant increase from the five-figure revenue it started with in the fourth quarter of 2017.  On a monthly basis, it represents 550% growth in monthly revenue in four months, and is continuing to expand. The Commercial & Industrial Division features Energy Solutions for businesses, sales of products to industrial clients, and a Call Center that does inbound and outbound calls for business and government clients."
Technical Analysis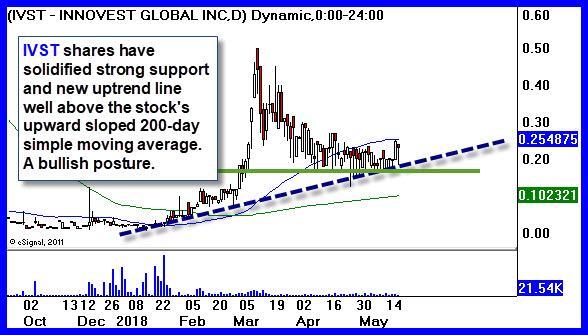 The technical picture for the stock was a bit muddy until recent days, which is why we have kept this one in our pocket, waiting for just the right moment to put it on your radar.
Patience is a virtue. In fact, as we have monitored the stock in recent action, we've seen it do two important things: establish confirmation of critical support around the $0.20 per share level, and establish and hold its new and emerging bullish uptrend line.
It's important to understand that this action comes in the context of an existing longer-term uptrend that got its start around the beginning of this year. In other words, this recent show of support represents a higher low in the context of the stocks longer-term action.
This is critical – the stock's current pattern wouldn't be as potentially bullish if it came under different conditions. However, given this larger time frame posture, the upside potential here is possibly explosive.
Key Points:
IVST is a diversified company with ramping operations in multiple high-growth segments at present.
IVST is making real money, with trailing revs already coming in at $764K.
IVST has seen accelerating revenue performance in April and May, and is now on pace for an annual topline run rate topping $4M in sales.
IVST is holding form in an established longer-term uptrend following a healthy pullback that could represent a great opportunity for new investment interest.
IVST is coming off an RSI trough under 40, pointing to a massively oversold stock now heading back the other way.
IVST just recorded a MACD Bullish reversal, suggesting a technical change in trend.