While the market has taken a beating over recent days, pullbacks are the mother's milk of effective investment strategies, and shrewd market participants will already have a growing shopping list on hand.
With that in mind, one area that may deserve special attention and offer outsized potential ahead is the pet care space.

The Pet Care Boom
The US pet food market already garners over $30 billion in annual sales as has room to grow, especially on the ecommerce side. Globally, the pet food market exceeds $90 billion in annual sales, having grown by more than 50% over the past decade.
Pet products also represent a true non-cyclical "staple" with very little vulnerability to economic downturns. This is also a growing market. 
That combination – growth and recession-proof stability – is a rarity in the market, which makes stocks in the space extra attractive to institutional players.

Growth in the pet foods market is being driven by increasing pet ownership rates, growing household disposable income, and cultural factors.
The freeze-dried sub-category in the overall pet food products market is by far the fastest growing factor play in the space, with 2020 representing a breakout year for the sub-category.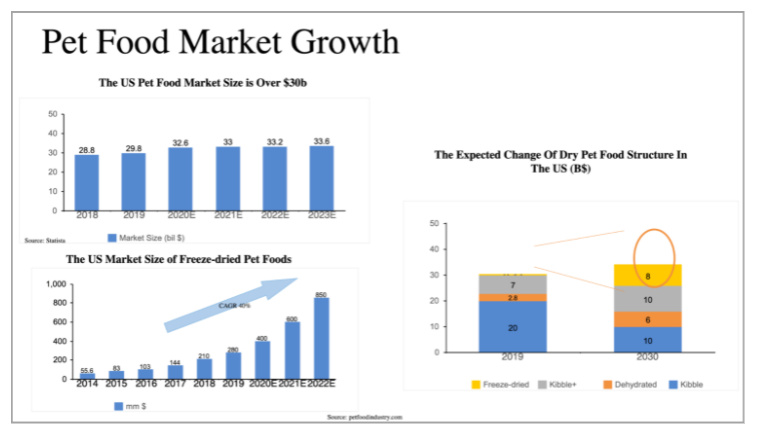 The Key Players
Recent IPOs in the pet care space have seen enormous investor interest both out of the gates and over ensuing quarters after listing.
Chewy Inc (NYSE:CHWY) is a good example, raising about a billion dollars in its 2019 IPO, debuting around $22/share. The stock has traded as high as $120/share. 
While it has pulled back a bit in recent action, CHWY remains at a market value of nearly $30 billion, up almost 230% sitting coming onto the market.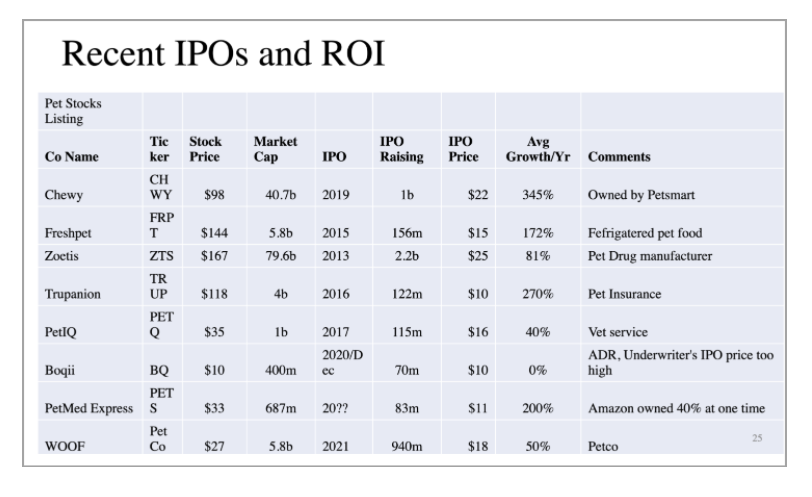 Zoetis Inc (NYSE:ZTS), Freshpet Inc (NASDAQ:FRPT), and recent IPO Petco Health and Wellness Company Inc (NASDAQ:WOOF) offer similar success stories.
Resilience is also on display. Like many of the stocks in the space, Trupanion Inc (NASDAQ:TRUP) barely lost a step during the market crash from February to April last year. Shares then rallied as much as 400% over the following 8 months.
It is this rare combination of resilience during market downturns and strength during rallies that makes the space so attractive to major investors.
With that in mind, Caduceus Software Systems Corp (OTCMKTS:CSOC) is a brand new entrant in the space that may also deserve some attention. 
While the company's name may not sound like a pet care play, CSOC is the latest addition to the list of publicly traded pet food suppliers following its acquisition of McLovin's Pet Food, Inc. (mclovinspetfood.com), a California registered revenue-generating company active in the pet food industry.

CSOC: The Underdog with Big Upside Potential
Given the runs other stocks in the space have already experienced, and the relative lack of crowd participation or speculation in CSOC shares up to the present, this stock may actually offer the most explosive upside potential going forward as it starts to post strong financial performance data following its integration of McLovin's.
This case is further bolstered by the company's specialization in freeze-dried pet food products, which you will recall is the sub-category seeing the lion's share of growth in the overall space.

McLovin's is already established and has continued to show growth, securing a recent purchase order from Kehe Distributors LLC last month. 
According to the company's recent release, Kehe has agreed to promote McLovin's to their customers. As first step, they will launch a campaign to reach up stores on the west coast. If the result is positive, they will expand the reach to include mid-west which they have even a stronger presence and bigger coverage.
"This is a big first step to having access to a distribution network of this size. We expect to receive positive feedback and a large order in the coming weeks from this promotional campaign. The Promotional model is designed to help showcase the latest and most innovative products to retailers and stores. Kehe customers' count on the sampling to stock their shelves with the hottest deals from new and established brands and to learn the compelling stories behind the brand. Kehe's distribution network will allow us to grow our business to the next level and develop meaningful connections with new retail partners from around the country," said Alex Chen, Chief Executive Officer and Director of Caduceus.
This model could help to foster a growing end-market distribution footprint, which would put CSOC in play as a growing piece of the puzzle in the robust pet products marketplace.
Adding to CSOC's favorability, recent press from the company suggests management is actively making moves that should equate to growing interest from investors including potential interest from institutional money managers.
The company appears to be on the way toward getting fully current with filings and it has also recently begun negotiating the settlement of debts from previous management, achieving a first major milestone by signing a debt settlement agreement with the former director and other related parties, for a definitive write-off of outstanding unsecured debts with a principal total amount of $3,039,880, including accounts payable and accrued expenses $56,314, accrued expenses – related party $386,650, accrued interest $15,511, notes payable – related parties $2,400,000, loans payable $128,753 and loans from officer $52,652.
According to its release, the $3,039,880 debt settlement agreement along with the ongoing acquisition of a revenue generating company that also has over $6,000,000 in assets will significantly improve the balance sheet of the company.
Please make sure to read and completely understand our disclaimer at https://www.wallstreetpr.com/disclaimer. We may be compensated for posting this content on our website by EDM Media LLC. For questions, comments or suggestions please contact ir@edm.media.