EastGate's 8K Filing Re-Solidifies Its Goal to Go Current
New audit team; Soon to be current
Oral mouth rinse a safer alternative than needles for diabetics
Dual list on the Canadian Stock Exchange
1st tranche of up to $5 million investment was due in May
Company using the East to West Approval strategy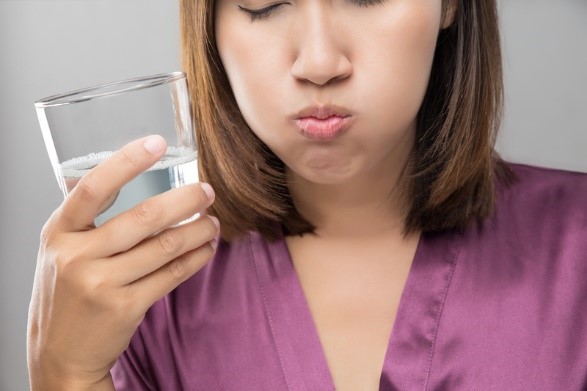 EastGate Biotech Corp. (OTC PINK:ETBI), a pharmaceutical company that focuses on innovative technological developments specifically in insulin drug delivery for the treatment of type 2 diabetes, released an 8K filing on Friday, June 8, 2018, informing shareholders a new auditor has been hired.  Investor fatigue seemed to set in over the past couple of months, evidenced by the small price erosion.   Investors seem to want to know that the financials are in order before large sums are received form their new partners so there is accountability of how those funds are spent.  This gap in news represents a unique opportunity for investors to take advantage of the value in the share price before the announced funding is in hand.
The biotech company had released its 2016 10Q's and 10K the beginning of March, which was a formidable sign the company was in an attempt to bring themselves current. The long-awaited filings did not bring the company up-to-date and unfortunately kept its "stop sign" status at OTCMarkets.com. Investors grew anxious as they sought the 2017 filings in which would bring the company current and in good standing.
ETBI communicated via social media (twitter) on both March 12, 2018 and again nearly a month later on April 18, 2018, reiterating the company's desire to go current. In our best assumption, the auditors were dragging their feet with the completion of the EastGate's latest financials. Their tenacity to pull the plug on the old and hire the new proves their commitment to dedication to its investors to not only become fully transparent but also eligible to dual list on the CSE (Canadian Stock Exchange).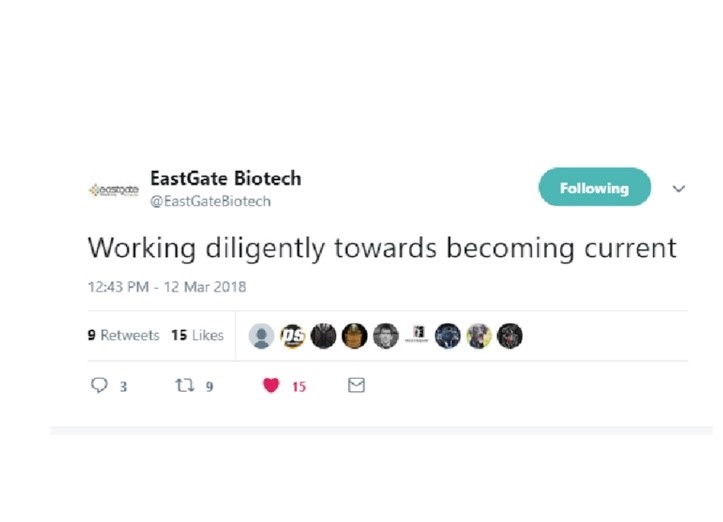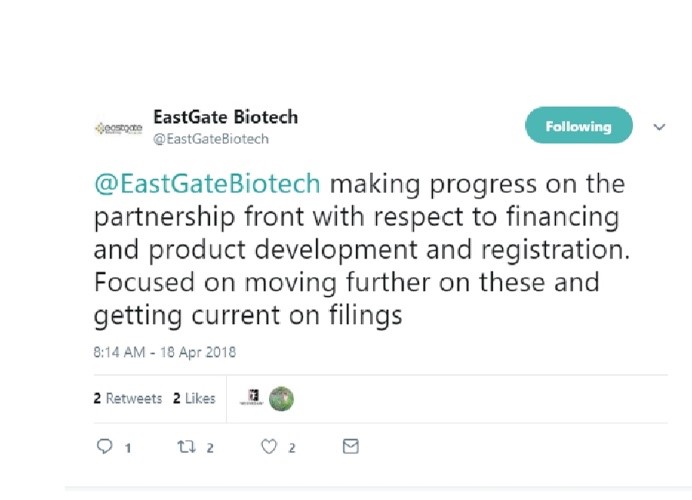 Oral Mouth Rinse -vs- Hyper dermic Needles
There are significant benefits of using an oral mouth rinse over needles in the emerging markets.  The most obvious is price.  Emerging markets are under intense economic pressure to control diabetes at epidemic proportions.  The cost differential between a three use a day oral insulin pack versus the needles is enormous.  With an oral rise all you have to do is take it right before you eat.  With the injectable you have to pick the spot where you have to inject yourself and be careful not to inject yourself in the same spot to avoid scar tissue which will eventually occur no matter how careful the individual.  The other issue is disposing of the needles.  In developed markets there are mechanisms to deal with hazardous waste but the emerging markets don't have that infrastructure in place.  Safety is a real concern in emerging markets with respect to needles.  Needles are clearly not that answer in the emerging markets.  There are too many detractors making oral insulin the most likely candidate in these diabetes hotspots.  This is why EastGate's licensing strategy and roll out plan make so much sense.
Perks of dual Canadian listing
Once ETBI becomes fully current, the Toronto based company, shall qualify and move ahead with the dual listing on the TSX. Having your company trade on multiple exchanges just increases the number of global investors whom can invest in your company. According to the TSX/TSX Venture website, here are some of the advantages to trading on their exchange: (Dual Listing Guide)
Visibility
On average, companies listed on TSX are covered by four analysts, whereas TSXV-listed companies are covered by one analyst
Canadian companies that are inter or dual-listed on a U.S. exchange are covered by an average of nine analysts (more coverage than their counterparts that list only on a U.S. Exchange)
Index Eligibility
Companies listed on TSX are eligible to be included in the S&P/TSX Composite Index and other S&P/TSX sector indices; TSXV listed companies are eligible to be included in the S&P/TSX Venture Composite Index
According to Benefits Canada, almost one-third of Canadian pension fund assets invested in Canadian stocks are managed using index-based investing strategies, benefiting companies with increased visibility and improved investor awareness
Click here to access a list of all S&P/TSX indices.
Institutional Investment
In addition to retail investors, a listing on TSX/TSXV can get an issuer noticed by the Canadian institutional investment community. Canadian portfolio managers funnel 70% of their money into Canadian assets
Market Support
Canadian investors and analysts tend to be better-informed and risk tolerant, have lower turnover in their portfolios, and more likely to stick with Canadian investments for the longer term
Well-regulated and Fully-automated Marketplace
Because most of our trading rules are built into our automated systems, TSX and TSXV ensure consistent treatment of all orders, enhancing investor confidence in the fairness of our market
Expertise and Innovation
Our expertise expands beyond our traditional base of the resource sectors, to include global leaders in Financial Services, as well as hundreds of companies in the dynamic innovation sectors, such as Technology, Clean Technology and Life Sciences
EastGate Should Be in a Well Capitalized Situation
Recent news of a financial agreement for $450,000 gave ETBI some breathing room and working capital, but more importantly is the deal with Genluiching Mining who will invest up to $5 million USD in tranches. The first tranche was expected sometime in May. It is now June and one can anticipate that funds are soon to be in hand.  It makes sense that the Company would want to update their current status before funds arrived so that there was a better audience to see that they have funding when it does arrive.
The investment will be focused specifically on the development of the liquid insulin mouth rinse for the Philippines. Genluiching agreed to fund this development until regulatory approval and registration of the insulin mouth rinse is achieved in the Philippines. The funds will also be used for administrative and operations in relation to EastGate and the EastGate Philippines' office. Genluiching along with EastGate Biotech and EastGate Philippines will be participating in a Profit Sharing arrangement from the future proceeds of the liquid insulin mouth rinse.
According to OTCMarkets.com, ETBI's share structure consists of 422,257,377 shares O/S and a marketcap of $1.5 million. $5 million in funding is over a penny a share, yet they are trading at 1/3 that amount.
EastGate's Strategy = East to West
ETBI joins the long list of small biotechs taking advantage of clinical trials and development in offshore markets where 90 percent of new therapies approved this year had testing outside the U.S. and Canada.
For example, China's FDA is proposing another round of policy changes designed to hasten clinical trial approval and lift restrictions placed on trial sites, with the ultimate goal of allowing drugs to get into the clinic faster. To foster new trial sites, the agency is backing away from its certification system, which requires any facility that wants to conduct clinical trials to go through a laborious certification process. And to speed up trial approval—and probably improve the country's position in international clinical studies—the agency is proposing a "no response means approval" mechanism. Akin to the U.S. FDA's trial approach, the new policy would cut the waiting time for researchers starting new studies.
EastGate primarily is conducting studies in the Philippines (South East Asia), hoping their diabetic mouth rinse can be fast tracked through the Philippines food and drug administration governing body. Positive clinical trials and approvals can then be brought back to the West (USA & Canada) in hope of speedy acceptance by the FDA, but rest assured, revenues from only a handful of countries, where diabetes is now classified as an epidemic, will create massive success for ETBI.
About EastGate Biotech
EastGate Biotech focuses on innovative technological developments and produces and distributes innovative drug compounds and healthy nutraceuticals that are based on natural therapies absorbed by the body. We utilize advanced nanotechnologies and alternative delivery systems that take difficult to deliver compounds and deliver them using our nanotechnology platform which ultimately increase the bioavailability to the body. Using our methods of delivery, provides healthy alternatives to conventional pharmaceuticals that all-too-often create dangerous side-effects and unexpected consequences for those trying to attain and maintain a healthy lifestyle. EastGate's wholly owned subsidiary Omni Surgery and Anti-Aging Centre is the first of many surgery centers to come under the Omni umbrella as we plan to roll up existing business under the Omni brand and expand our footprint globally.
Investor Summary
EastGate is pursuing a licensing strategy in emerging markets before coming to developed markets.  It's a pretty decent strategy that gets the revenues flowing and capturing market share before going after the developed countries like the USA were needles are predominantly used.  The only way to overcome such an entrenched market is a lot of money to educate people on the benefits of not having to stick themselves with a needle and the fact that it works.  Some diabetics in the USA wear an injectable pump because lifestyle is so important.  The fact is that this is a lifestyle drug taking a major toll on developed countries.  The growth markets will eventually be developed over time but it seems like they are majoring in the minors before they attempt any shot at the developed market.  Going current seems to be the next step in legitimizing themselves to the investing public as a major player in the diabetes market.