Similar to the fake news liberal media puts out on The President of the United States, CNBC realizes it needs to bash Bitcoin and digital currencies or they will continue to lose the audience at an alarming rate.  The current staff including Joe Kernan, Becky Quick, Jim Cramer and others pretend each day that they do not understand the dynamic change happening in the investment world and keep their heads in the sand.
The audience numbers for CBNC peaked in 1998 when Maria Bartiromo led a star-studded reporting team in the middle of the Dot.com boom, and the following, and influence the news show had for investors, but it is a shadow of its former self as the viewerships ages and the producers continue to chase old news and silly Fed Watching by Rick Santelli.
No one cares what the 2 year 5 year and 10 year Bonds are doing, really, no one gives a shit, certainly not investors, but the funny thing is how they bash every move in Bitcoin, and they do it because they are in danger of losing their job and careers as the investment world leaves them in the dust.
Warren Buffet hates Bitcoin, Charlie Munger hates Bitcoin, and the brokerage community does not have a large enough stake in Bitcoin or other digital currencies.
If you look closely, it is a simple formula, TD Ameritrade, and E-Trade are big advertisers for CNBC, as is Morgan Stanley and Charles Schwab, they want you to keep trading, and watching and their livelihood depends on you not switching over to Bitcoin.  The spigot for revenue for these companies is in danger of losing market share to Fidelity and Coinbase who are partners as every investor wants at least 1 Bitcoin in his/her account, in fact, Fidelity is the largest US Miners of Bitcoin.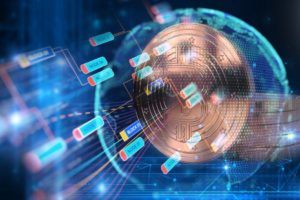 Bitcoin moved from $3200 to $9000 in a few months, and Google, Apple, and Netflix can never make up lost ground in this short a time, the super cycle for technology is over, and it changed to digital currency.  The horses are out of the barn, and Mark Haines must be rolling in his grave as he watches CNBC devolve into nothingness as a new investment cycle comes to the front of the pack.  Very little CNBC can do now as its audience realizes it is terribly out of date.
Please make sure to read and completely understand our disclaimer at https://www.wallstreetpr.com/disclaimer. While reading this article one must assume that we may be compensated for posting this content on our website.