Financial Company's shares surge 17% higher as float dries up. Technically speaking, shares could still climb higher.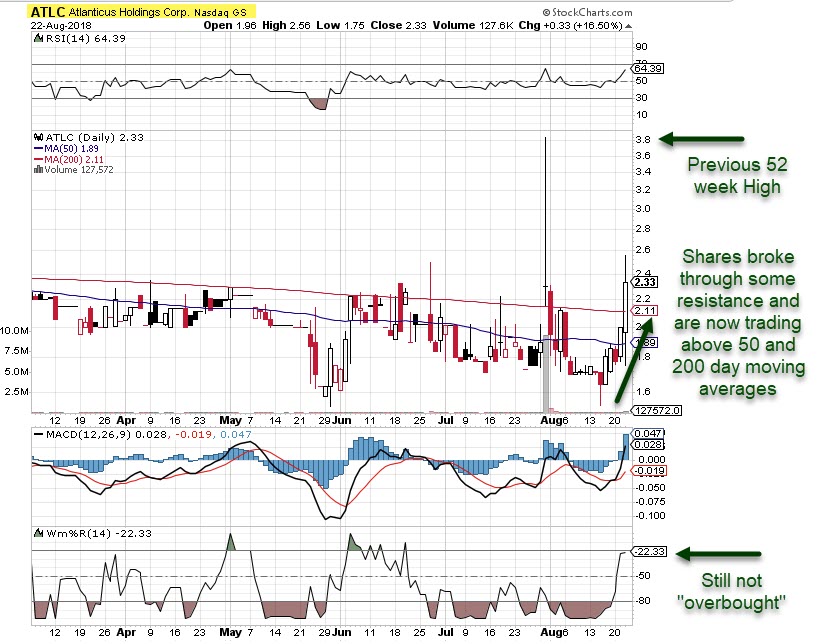 Shares of Atlanticus Holdings Corporation (NASDAQ:ATLC) have been stringing together some impressive gains during the last few sessions after several bullish comments disclosed by the company in their recent 10Q Quarterly Report have the bulls buying and holding shares.
Adding to the intrigue here is the possibility that the company themselves may be buying shares and helping to extinguish the already tiny float. A share repurchase plan authorized by ATLC's Board of Directors on May 10, 2018, authorized the company to repurchase an additional 5,000,000 shares of their common stock through June 30, 2020.

"We will continue to evaluate our stock price relative to other investment opportunities and, to the extent we believe that the repurchase of our stock represents an appropriate return of capital, we will repurchase shares of our stock," states the firm.
The firm utilizes proprietary analytics and a flexible technology platform to enable financial institutions to provide various credit and related financial services and products to the financially underserved consumer credit market. They make money lending money- via credit cards, car loans, etc.
ATLC "experienced overall quarterly growth for the last eight quarters related to their current product offerings with over $110.0 million in net receivables growth associated with point-of-sale and direct-to-consumer products from June 30, 2017 to June 30, 2018." Furthermore, they "expect continued quarterly growth in our managed receivables balances for all of our products throughout 2018."
What is making the stock surge is not only the positive news, but the price action is due in part to Shorts scrambling to cover their positions in the suddenly rising prices.  


The fact that today's action saw only 127K shares change hands, means only a fraction of those who were betting prices would decline have actually covered their positions and that means we could see more bullish price action ahead.
According to ShortSqueeze.com over 917K shares of the company's tiny 4.2M float are short. If bulls continue to bring volume and buy up shares, those Shorts will have to pay higher prices to close their positions and we may see another run towards the $4 price range- as was the case on July 31, 2018, when the stock hit $3.83.
ATLC shares closed on Wednesday at $2.33 after hitting a high of $2.56. That means, the stock is still over 34% away from reaching those previous highs.
Atlanticus Holdings joined Naked Brand Group (NASDAQ: NAKD), Transenterix Inc (NYSEAMERICAN: TRXC), Amyris Inc (NASDAQ: AMRS), Aurinia Pharmaceuticals (NASDAQ: AUPH), Pioneer Energy Services Corp (NYSE: PES) and Helios and Matheson Analytics (NASDAQ: HMNY) in bull territory today.